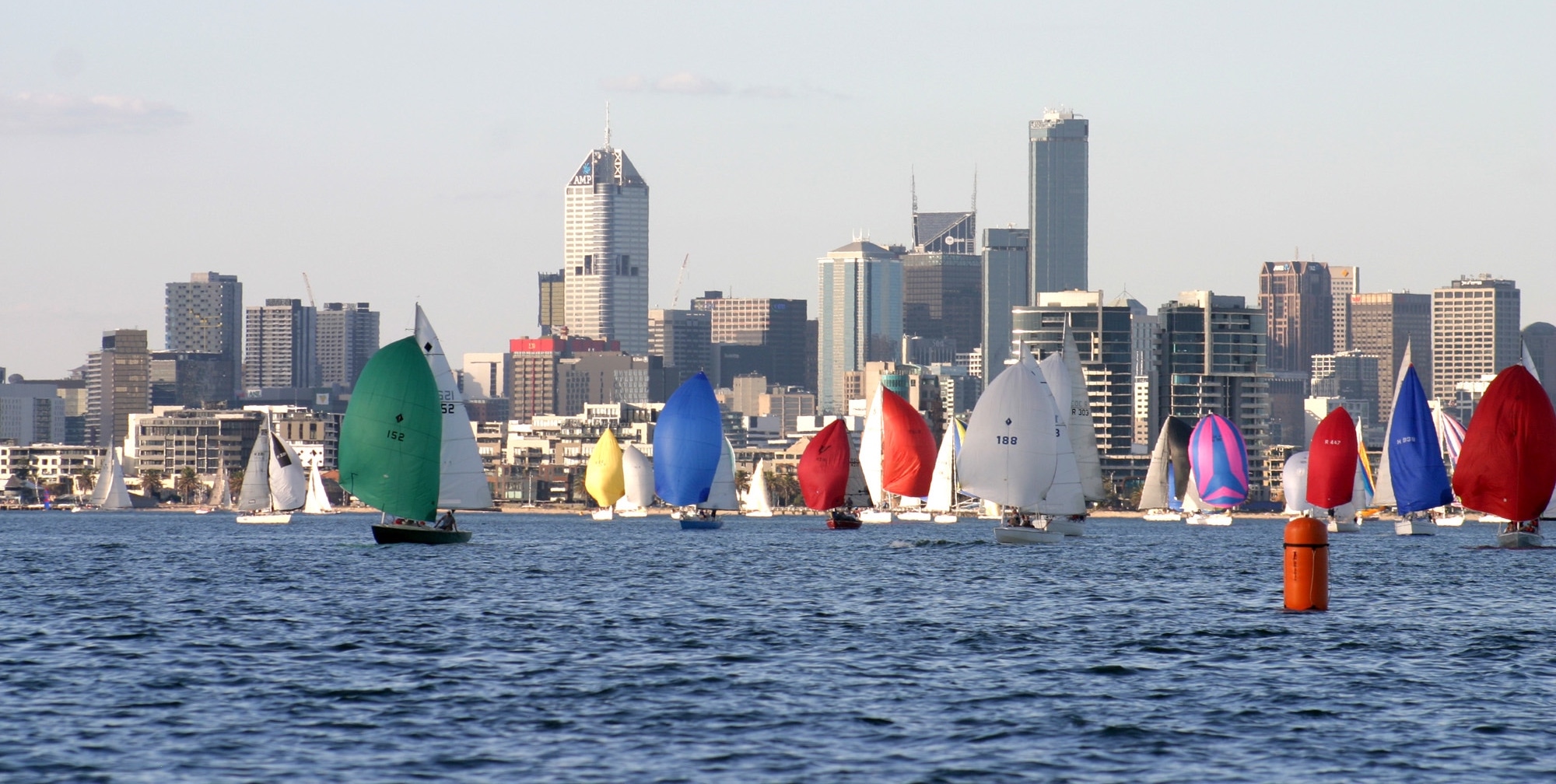 Learn to sail at the Royal Yacht Club of Victoria.  Royals welcomes new sailors and new Members. People of all backgrounds, ages and abilities are encouraged to learn to sail – no prior experience is necessary.
If you are interested in a learn to sail course, contact us for more information about our programs. We are more than happy to discuss the many sailing opportunities available at the Club. Royals offers courses to help get to grips with both keelboats and dinghies. If you are not sure where you should start your sailing journey, please contact us and we can make a recommendation based on your preference and ability.
You can find out more about trying sailing by contacting our Sail Training Development Manager on (03) 9391 1277 or by email at training@rycv.asn.au
DISCOVER SAILING
Discover Sailing is a campaign initiated by Australian Sailing (formerly Yachting Australia). It is designed for people who are new to sailing. RYCV takes part in the campaign by running Discover Sailing Days on a regular basis. We also offer Discover Sailing experiences to all those who are interested.
If you're trying sailing for the first time there are some handy tips which will help to ensure your safety and enjoyment.
DISCOVER SAILING DAY
Discover Sailing Days are a great opportunity to try sailing for the first time.  Best of all, they're completely free of charge! Royal Yacht Club of Victoria hosts regular Discover Sailing Days, which are open to all members of the community.
Trained Instructors and volunteers, who sail regularly from the Club will provide you with all of the required safety equipment. Let us show you just how much fun sailing can be.
Our Club bar and restaurant will be open so bring your family and make a day of it!
To keep up to date on when the next Discover Sailing Day will take place. Like RYCV on Facebook or contact the office by calling (03) 9397 1277 or emailing rycv@rycv.asn.au.
DISCOVER SAILING EXPERIENCE
A Discover Sailing Experience is ideal for people who are new to sailing and want to try it in a fun and safe environment. In the three-hour session, you will receive a briefing on safety and sailing before we head out on the water. You can expect a thrilling and enjoyable sail out on Port Phillip. Our fully qualified Australian Sailing (formerly Yachting Australia) instructors will be on hand at all times.
Upon returning to the shore you will be invited back to our club house to debrief from the day's sailing and discuss further sailing opportunities. The Discover Sailing Experience is a great team building activity and is the perfect day out for partners, friends, families and work colleagues.
The cost for this experience is $120 per person for a 3-hour session, with all safety gear included.
Bookings can be made as a group, or individually if you would like to meet others who are new to sailing.
WHAT TYPE OF BOAT SHOULD I CHOOSE?
For those who aren't sure what type of boat is right for them, it may help to know the main differences between dinghies and keelboats.
Dinghies are single or two-person light, planning hull, centerboard boats. They are easy to handle in light to medium winds and offer an exhilarating ride when the breeze comes up. Body weight is used to balance the boat against the wind.
Keelboats are larger than dinghies, typically being around 20-30ft in length. Many classes are much less physically demanding than dinghies, making them ideal for those who are less active or who have a disability.
DON'T HAVE A BOAT TO SAIL ON?
With many designs needing crews of three (or more) there are always owners on the lookout for reliable crew.  If you cannot afford to buy your own boat, this is one of the most cost effective routes into sailing.  It is also a great way to work out what type of sailing is best of you.
If you are a more experienced sailor and/or you would like to get involved in club racing, create a 'Crew' account on MySail. This will add you to a database that is used by boats all over the Bay, to help pair you up with a great skipper.
For more information or assistance, contact the office at rycv@rycv.asn.au
If you already have sailing experience, you can also hire out one of the Club-owned keelboats or dinghies.  Get in some extra training or just go for a casual sail in Hobsons Bay! We don't recommend this option if you are new to sailing.
BECOME A MEMBER
Becoming a member at Royal Yacht Club of Victoria not only welcomes you to become a part of the close sailing community.  It also grants you access to a number of great benefits at the club.
Day Passes are available for casual sailors, but if you are a regular visitor at the club you are encouraged to consider signing up for one of our many membership options.
Take a look at our membership page for more information on how you can join.