Keep an eye out on this page for cruising news.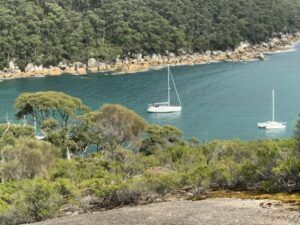 We're looking forward to kicking off the RYCV cruising program in September this year, commencing with a trip to Docklands.
Briefing dinners with guest speakers will be scheduled a couple of weeks prior to each event which will allow those participating to meet
and greet and provide input into event activities.
Further details to come and we will be looking for EOIs closer to the time.
AFL finals weekend to Docklands – Friday 29/9 to Sunday 1/10

November cruise to Martha Cove/Mornington – Saturday 4//11 to Tuesday 7/11

January Portarlington Mussel Festival – 2nd Saturday in January – 12/1/24 to 14/1/24

February cruise to Docklands or Queenscliff – Friday 16/2/24 to Sunday 18/2/24

Labour Day weekend cruise to Geelong – Friday 8/3/24 to Monday 11/3/24
Any queries please contact Lynda at wildwaves@bigpond.com
Cruising Yacht Association of Victoria
RYCV members Ian Reichelt and Marilyn Bengert setup the Cruising Yacht Association of Victoria 18 years ago.
The CYAV meet on the first Monday of the month at the Bells Hotel in South Melbourne.  Cruising members from Victorian Yacht Clubs are represented in this association. They are currently on route to New Calendonia.
For those interested in joining this association, visit the  CYAV website  https://www.cyav.com.au