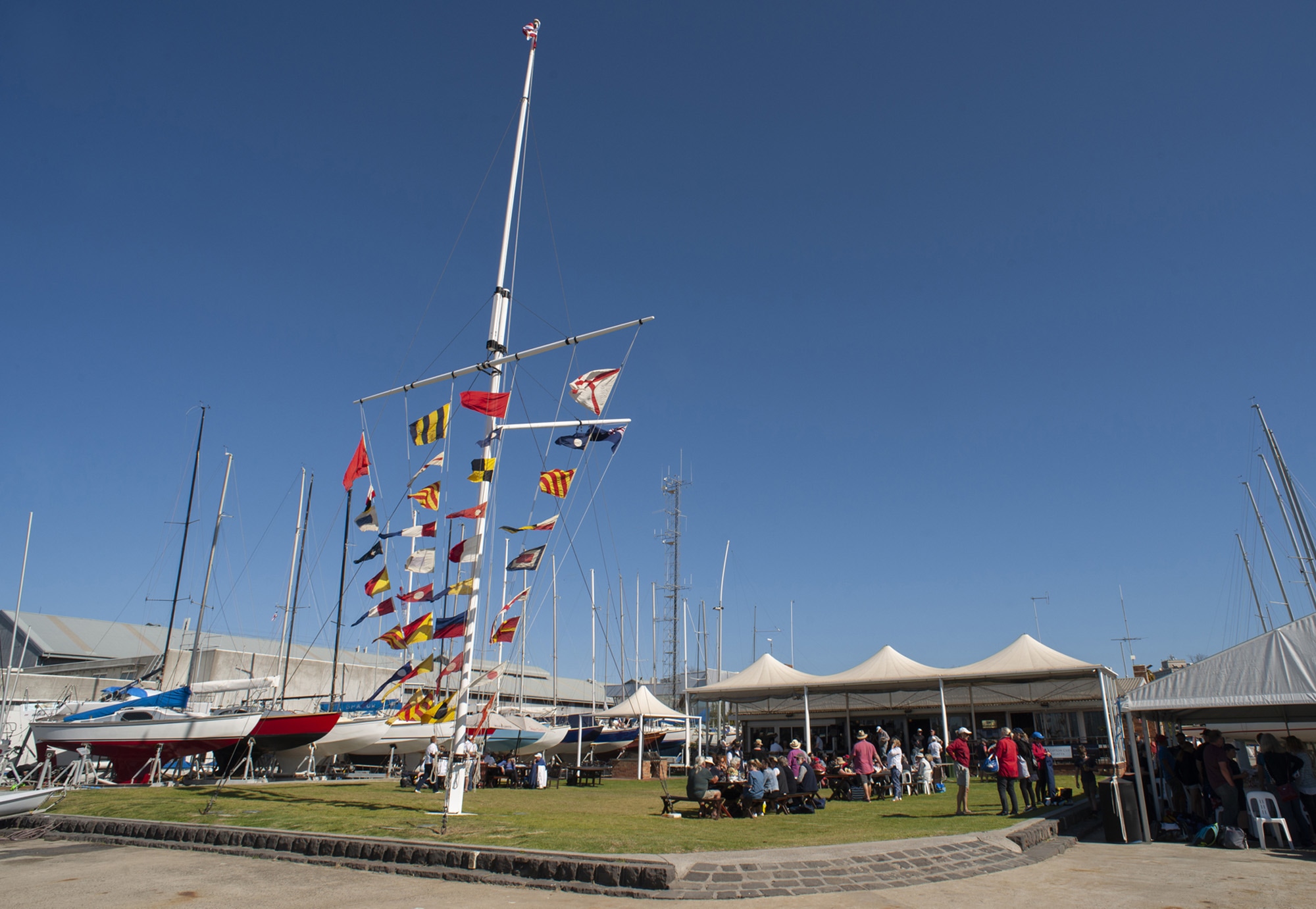 The Royal Yacht Club of Victoria could not survive without the dedication and hard work of our volunteers. Races could not be run, committees could not govern and functions would not happen without them. There is no doubt that volunteers are the essence of any club and RYCV is no different. In fact, in 2016 RYCV was awarded Yachting Victoria Club of the Year, and volunteers played a huge role in helping the Cub win this prestigious award. 
One of the biggest opportunities to volunteer is at the Club's annual working bee which helps us clean up our clubhouse, yard and marina in preparation of the new sailing season. The working bee is also a great social event on the calendar and a great way to meet new friends or catch up with some old ones. The Commodore will open the bar and even fire up the BBQ at the end of it all in appreciation of your hard work in making our Club look beautiful. 
Other than the working bee, RYCV regularly hosts major events and regattas, all of which need your help to run smoothly, allowing the events to be enjoyed by our Members and visitors. Volunteers play an integral role in both on and off water activities. Our House & Social Committee are also looking for volunteers to help out with social events at the Club. Keep an eye out for details on specific events like the Lipton Cup Regatta. 
To find out more and express your interest about volunteering at RYCV, please contact the office on (03) 9397 1277 or by email at rycv@rycv.asu.au. Alternatively you can also complete the online Volunteer Application Form. 
Download: Volunteer Program Operational Guidelines
The Benefits of Volunteering
Apart from that warm and fuzzy feeling you get after helping out with a successful event, volunteering at the Club provides a strong sense of community and friendship. Volunteering is a great opportunity to meet other motivated people who are committed to giving back to the Club to make it the best it can be.
Another benefit of the volunteering with the Club is that often grants are obtained to offer advanced and specific training courses to volunteers at no cost to themselves. This means that by volunteering with the Club you are also broadening your skill base and learning new things to assist you in developing your passion for sailing. RYCV is your Club – let's work together and make it a wonderful place to be!
Qualifications
Some volunteer roles at RYCV require certain qualifications. 
Volunteers wanting to operate club boats, such as the RHIBs or the Suzuki, require a minimum qualification of the Power Boat Handling Certificate (the old TL3) qualification and preferably a Safety Boat qualification. If you want to operate radios at the Club you will need a radio licence, It is also beneficial if some volunteers have First Aid level 2 qualifications and blue crane certifications. 
Courses are run regularly at the Club for the above qualifications and occasionally the Club is successful in obtaining grants to cover the cost of these courses for volunteers. It is after all in the Club's interest to have a strong qualified volunteer base particularly if we want to run major events like the recent 2020 Musto Optimist Australian and Open Championship.
Working With Children Check
All staff and volunteers who work with children at the Royal Yacht Club of Victoria must have a Working With Children (WWC) check. 
Employers, self-employed persons, employees and volunteers all have obligations under the Working with Children Act 2005. By fulfilling these obligations, we can all help to make Victoria's children safer. 
The Working with Children (WWC) check is one mechanism to help keep children safe. It is designed to complement good recruitment, selection (including reference checking), supervision and training practices for staff and volunteers who work with children. 
When selecting people to work or volunteer with children, it is important to understand that employers, volunteer organisations and agencies still need to satisfy themselves that people who have passed the WWC check are suitable for the specific roles within their organisation. 
You can read more about the process of applying for a Working with Childrens check on the Victorian Government's WWCC Website.